LA CALA DE MIJAS
La Cala de Mijas is a beautiful and highly sought after village located in Mijas Costa on the Costa del Sol. Considered widely as the heart of Mijas Costa, La Cala's charm attracts many visitors together with its first class beach and golf providing year-around tourism.
La Cala is conveniently situated halfway between Malaga and Marbella, which are both less than 30 mins away by car and easily accessible by the main highway or N340. You also have Fuengirola town less than a 10-minute drive away.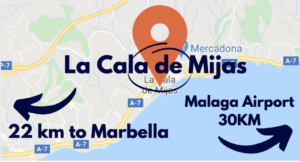 Once a quaint Little fishing village, La Cala de Mijas has grown massively both in size and popularity over the last 20 years and now offers an excellent array of amenities, supermarkets, services and international bars and restaurants.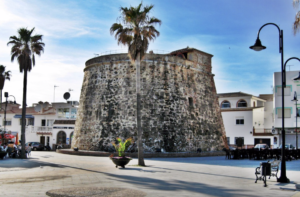 LA CALA TOWER
A popular Indian Restaurant in the La Cala area is Bombay to Goa, you also have The Teppanyaki Japanese Restaurant, and The Wok for Chinese.
Biddies is a popular Irish bar in the center of La Cala, and a great meeting place, here you will find all of the sports games. If you want a good cocktail then Tropicano beach bar serve some of the best, straight off the boardwalk and onto the beach, and if you want to add a bit of Marbella glitz then take a visit to El Oceano Beach Hotel Restaurant or the famous Olivias La Cala owned by The Only Way is Essex star Elliott Wright.

EL OCEANO BEACH HOTEL RESTAURANT
In addition to its excellent restaurants, bars and amenities, La Cala is renowned for its fantastic beach and boardwalk which takes you all the way to Cabopino, so it's easy to see why it's so popular with locals, ex pats and holiday makers alike.
La Cala de Mijas has 3 of its own 18 hole championship golf courses - La Cala Golf. Within a short drive you can find a number of other golf courses such as Santa maria Golf in Elviria.

LA CALA GOLF
La Cala has 3 public primary schools as well as a secondary school. Close by is St Anthony's college, a private school near Mijas Golf, and a short drive away you have a number of private international schools such as the English International College or EIC, which has an excellent reputation.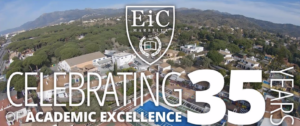 ENGLISH INTERNATIONAL SCHOOL
The nearest train station to La Cala de Mijas is in Fuengirola which you can get from the airport. Trains are relatively cheap, regular and reliable. You can get a bus From Fuengirola bus station, (next to the train station) direct to La Cala – but the easiest way to get to la Cala would be to hire a car.
You can find a wide selection of property for sale in la Cala on our website along with a number of new developments. Click here to see property for sale in La Cala de Mijas.
If you can't find what you are looking at on the website, please give us a call. We have access to 1000's of La Cala property via our networks.