How Safe is Spain right now?
We answer your questions below!
Here we give you an update on the current Situation in Spain, as of August 2021.
We discuss tourism, restrictions, vaccines and everything you need to know about travelling to the Costa del Sol in 2021.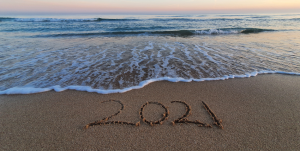 What is open for Tourists?
The answer is, pretty much everything!
Since the state of emergency was lifted in May this year there have been numerous Covid-19 restrictions put place to protect public health.
These restrictions mainly consist of reduced occupancy at events, and tourist attractions, as well as the mandatory wearing of masks indoors and where you are not easily able to socially distance.
You can check the restrictions by region here, on Spain's official tourism website.
Travelling between Spain's regions is freely permitted and all restaurants and bars remain open in line with the measures set out by the government.
You only need to look at the beaches to see that holidaymakers are still choosing sunny Spain for their family vacation; and it's because of the restrictions and safety measures that many tourists report of feeling safer in Spain than their home countries.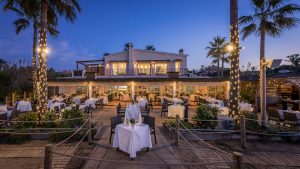 BEACH HOUSE RESTAURANT MARBELLA
How is Spain's Vaccine rollout going?
The answer is, pretty well!
71.1% of the Spanish population are now fully vaccinated with 85 people out of every 100 having had at least one dose of the vaccine. (Source)
Over 26 million individuals are completely immunised against Covid-19, putting the country ahead of the UK, Germany, the US and France.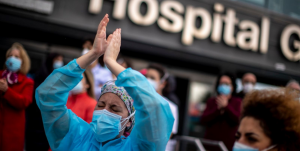 Can I Travel to Spain right now?
The answer is yes, absolutely!
Spain is currently considered Medium Risk Level with an average number of cases; and all fully vaccinated travellers can enter Spain for a holiday without proof of a negative Covid test.
High risk areas such as Brazil, Argentina, Colombia, Bolivia, South Africa and Namibia are exempt from this rule and must quarantine for 10 days on arrival to Spain, unless they are residents of the EU or Schengen Area, or have a long-term visa.
** Owning a property in Spain is not the same as being a resident. Make sure you don't get caught out!
Check out this map to find out exact restrictions for each destination.
UK Travellers must show proof of vaccination or a negative Covid test issued 48 hours prior to arrival. Spain is currently on the UK's "amber list." For full details on the UK's traffic light system, reviewed tri-weekly see here.
Returning to the UK from Spain; fully vaccinated travellers do not need to quarantine on return. You will however, still require a pre-departure test 3 days before returning. As well as up to two days after your return.
US Travellers were welcomed back to Europe in June 2021 with the Green Certificate system. The EU confirmed that American travellers may travel to the EU with valid certificates.
**If you are travelling to Spain please click here to complete the necessary documentation or download the Spain Travel Health App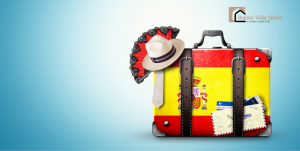 Are people still buying Property in Spain?
The answer is yes, now more than ever!
Buena Vida Spain has had one of its most successful summers in terms of property Sales; and there is no sign of it slowing down. Nobody really knew what was going to happen this year, but the property market appears to remain strong and people are most definitely still looking and buying.
If you are thinking of Buying a property on the Costa del Sol, then get in touch. Our team of multilingual property experts are waiting for your call!