Read why The Golden Mile in Marbella is considered the ultimate Marbella postcode.
This famous and exclusive five kilometre strip has some of the most luxurious and desirable real estate on the Costa del Sol, with impressive contemporary villas and spectacular apartments and penthouses.
Here we explore why The Golden Mile has become a magnet for the ultra-rich and show you what property the area has to offer.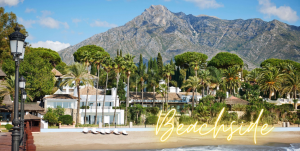 5* Area
The Golden Mile is a palm tree lined boulevard that runs parallel to its glorious coastline with sandy beaches on one side and the iconic La Concha and Sierra mountain backdrop on the other.
The area is split into beachside and mountainside by the N340 coast road from west Marbella through to the world-renowned Puerto Banus Marina; super-boat capital and mecca to the rich and famous.
The Golden Mile has excellent roads and transport links with Malaga Airport just over half an hour away by car.
Marbella and Puerto Banus are both within a 5-minute drive. You can in fact walk the whole way from Marbella to Puerto Banus via the stunning promenade that stretches across its golden shores.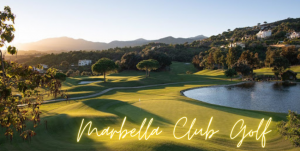 5* Facilities
Lined with 5* resorts, Michelin Star Restaurants and top beach clubs you can also find the famous Olivia Valere nightclub on The Golden Mile.
Prince Alfonso von Hohenlohe was instrumental in putting The Golden Mile on the map of the ultra-wealthy with the opening of The Marbella Club. With its 5* facilities and stunning beachside location, it soon became a playground for the international jet setter.
The Punta Romano Beach Resort followed shortly after, with its world class food, clubs and spas. Puente Romano Tennis Club hosts international tournaments concerts and events.
You can also find two distinguished schools of higher education here – Les Roches International School of Hotel Managementand the American College of Marbella.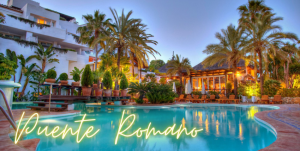 5* Property
The Golden Mile is home to some of the most luxurious properties in Europe. Check out 4 of our handpicked property listings below. If you can't see what you are looking for, then head to our website and select 'The Golden Mile' under the 'location' tab.
CHECK OUT SOME PROPERTY ON THE GOLDEN MILE IN MARBELLA

€8M Luxury Villa
5 Bedrooms
3 Bathrooms
SEE MORE HERE!

Penthouse Apartment

3 Bedrooms
3 Bathrooms
SEE MORE HERE!

Detached Villa
7 Bedrooms
7 Bathrooms
SEE MORE HERE

Ground Floor Apartment

3 Bedrooms
3 Bathrooms
SEE MORE HERE
5* Real Estate Company
It's easy to see why The Golden Mile is regarded as the ultimate postcode in Marbella and remains the top upmarket destination in Spain for wealthy, international clientele.
Here at Buena Vida Spain, we have been selling and renting houses in the area for over 20 years. So with a wealth of experience, we have the expertise to help you find your dream home. So get in touch!
Our multilingual property experts are waiting to help.